He championed Bitcoin when it was worth only $12 back in 2011…
Even when mainstream media laughed it off as a "fad".
And when some pundits declared it "dead", even as recently as a few months ago…
His message was loud and clear: Back the truck up and HODL.
Today a single bitcoin is worth over $48,000.
Now he's revealing a "back door" investors could use to capitalise on the Bitcoin boom…
Without buying Bitcoin.
And this "back door" could help investors turn a £500 grub stake into a £10,865 payday.
Forecasts are not a reliable indicator of future results.
But remember, the crypto market is volatile and unregulated, so only invest money you can afford to lose.
If you want to hear more about it…
Click here to unlock this crypto guru's number one crypto play for 2021
Regards,
Paolo Cabrelli
Publisher, Southbank Investment Research
PS. You should know, that our in-house crypto expert wasn't just right about Bitcoin…
He also bought Ethereum, another crypto giant, when it was just $10.
But he believes we've only seen the tip of the iceberg so far.
He even dropped a hint on his Twitter recently…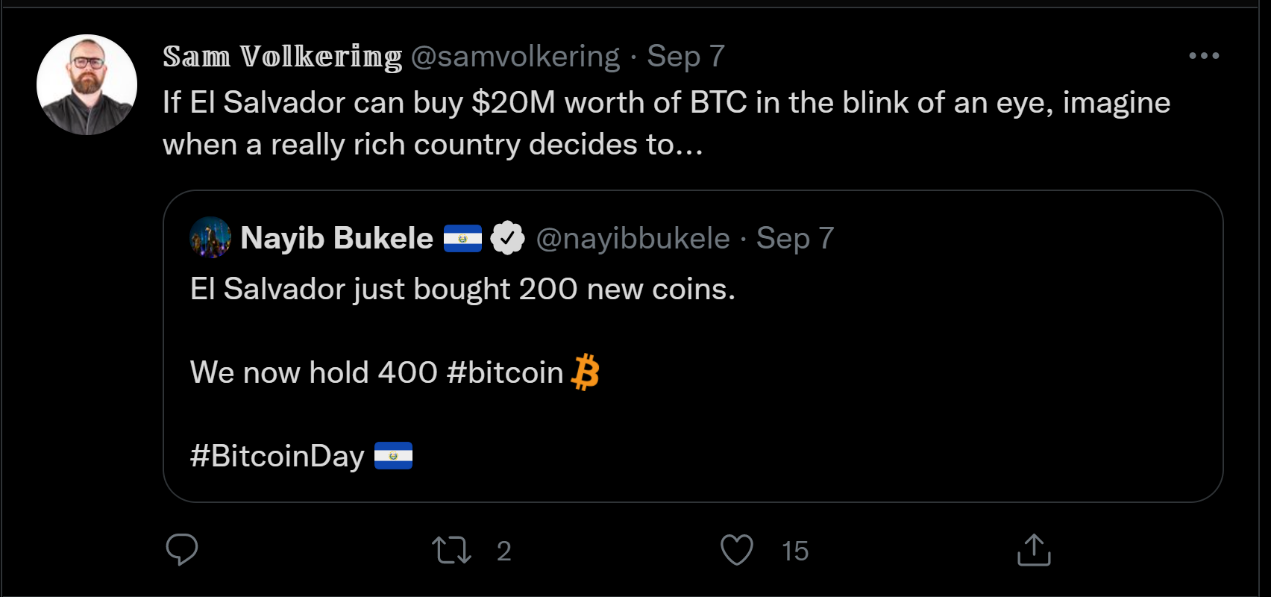 Source: Twitter
Important Risk Warning
Before investing you should consider carefully the risks involved, including those described below. If you have any doubt as to suitability or taxation implications, seek independent financial advice.
General – Your capital is at risk when you invest, never risk more than you can afford to lose. Past performance and forecasts are not reliable indicators of future results. Bid/offer spreads, commissions, fees and other charges can reduce returns from investments. There is no guarantee pidends will be paid.
Small cap shares – Shares recommended may be small company shares. These can be relatively illiquid meaning they are hard to trade and can have a large bid/offer spread. If you need to sell soon after you bought, you might get back less that you paid. This makes them riskier than other investments. Small companies may not pay a pidend.
Overseas shares – Some recommendations may be denominated in a currency other than sterling. The return from these may increase or decrease as a result of currency fluctuations. pidends from overseas companies may be taxed at source in the country of issue.
Cryptocurrencies – Cryptocurrency investing and investing in Initial Coin Offerings (ICOs) is a highly speculative investment. The cryptocurrency market can be extremely volatile. Digital currency coins are encrypted to keep them secure. The encryption identifies the currency itself, but not its owner. This means that if a coin is stolen, you have very little recourse in getting it back. The Financial Conduct Authority (FCA) does not regulate the Cryptocurrency market. This means that you will not have the protection of the Financial Ombudsman Service or the Financial Services Compensation Scheme.
Taxation – Profits from share dealing are a form of capital gain and subject to taxation. Tax treatment depends on inpidual circumstances and may be subject to change in the future.
Investment Director: Sam Volkering. Editors or contributors may have an interest in shares recommended. Information and opinions expressed do not necessarily reflect the views of other editors/contributors of Southbank Investment Research Limited. Full details of our complaints procedure and terms and conditions can be found on our website, www.southbankresearch.com.
Frontier Tech Investor is issued by Southbank Investment Research Ltd. Registered in England and Wales No 9539630. VAT No GB629728794.
Southbank Investment Research Limited is authorised and regulated by the Financial Conduct Authority. FCA No 706697. https://register.fca.org.uk/.