To paraphrase Margaret Thatcher – how can we be free if we are not financially free?
How can we be free when those at the top push out policies, like rock-bottom or even negative interest rates – that work for them, but punish savers and investors?
How can we be free when the powers that be wilfully devalue the pound in our pocket?
And how can we be free when all the big promises that are made to us fail to materialise when it really counts, when we're looking at our nest-eggs?
In my view, there is a new battleground for independence – and that is in the financial markets.
I know that a lot of people feel let down, and left behind.
I know because they have told me, with messages like these: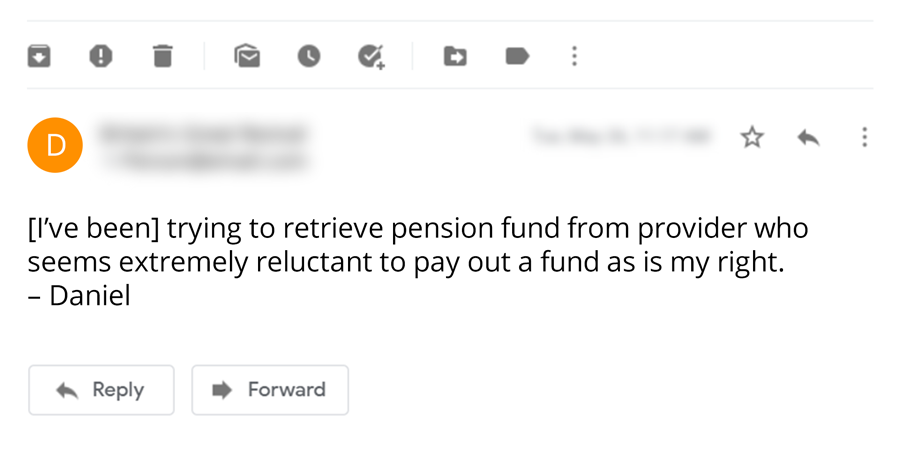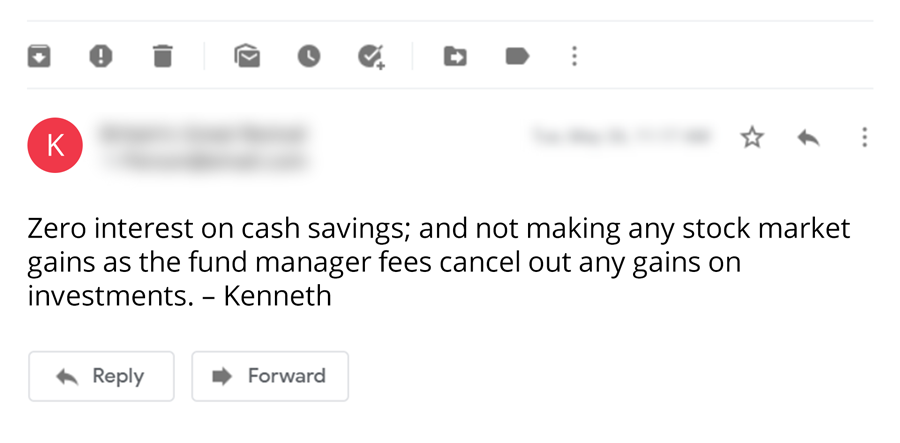 And since I started Fortune & Freedom – over a year ago now – the response has been phenomenal.
Despite the sneering panjandrums of the mainstream press and financial establishment…
"Monumentally risky "…
"Control or catastrophe ?"
"Beware Farage's advice …"
Over 80,000 independent minded, hard-working Brits now receive our FREE daily email.
And even the poo-poo'ers grudgingly admit we're on to something:
Holly MacKay, founder and CEO of Boring Money, says:
"The world of investment is crying out for change. Fees are often inflated, things are pointlessly complicated and the advice gap remains a chasm ."
Moneymarketing agrees: "there is a burgeoning advice gap in the UK and no apparent solutions to reaching a mass-market audience".
"Hold your nose and listen to Farage ," they said.
What's more, I know there are plenty of you who want to know more.
Homegrown investors who want more than just insights. More than ideas. More than just analysis from myself and Nick Hubble.
They are looking for something more useful… specific investment recommendations… the sorts of opportunities many people don't get to hear about.
Here's a sample of what so many are now asking for:
"Tips on good investment company platforms such as Hargreaves Lansdown products or other ways to invest as I fear gold is very high at the moment." – Roger
"More specific insight on investment options." – Judith
"What to do to save ourselves from failing banks, apart from gold and property, what do we invest in?" – Steven
And it's because so many of them feel let down, exasperated by the traditional financial establishment…
People like Roger:
"Twice the City of London screwed my pension with the result that I have a tiny private pension that is less than the state pension."
And Janette:
"We were advised to take our pension money from a good sound plan into a SIPP. The financial adviser then advised us to invest the funds in an unregulated scheme organised by themselves. Investments failed."
And Martin:
"Where to start! No major issues, but a general level of incompetence seems to prevail and the way the banking / central banking system is structured to steal from all of us through inflation is grossly unfair." – Martin
So I have used my connections from within the financial world to bring this project to life.
I call it Britain's Great Wealth Revival.
It is a crusade… one that I think is critical for every man and woman in this country who wants to get their money working for them.
If you're tired of hunting for old, recycled opportunities in the financial media…
Tired of big promises that never seem to pan out…
Tired of looking at your pension pot with a sinking feeling in your stomach…
Or maybe you're just looking for something to run alongside any advice or ideas you're getting right now from a professional you trust… because I know there are some good ones out there.
Bottom line: if you are looking for opportunities to potentially grow your wealth…
Opportunities to pull in some extra income…
And intelligence about stocks that could flourish in the months and years ahead.
Then I think YOU will want to be a part of this movement.
And you can be…
All the details are in a very special online broadcast.
In the broadcast, I'll introduce you to an investor I really trust. His name is Rob Marstrand. A man who has helped many hundreds of people all over the world make a success of their investments.
He's worked with the wealthy – and the man on the street – to help them make the most of their money.
I want him to do the same for you.
Rob has put together a wealth-building blueprint, sharing the critical money moves he believes you could make immediately.
It includes a private buy list of the stocks he believes could be in for a good run in the months and indeed years ahead.
Over 6,600 smart British investors have already downloaded it.
Here's what they've been telling us so far:
"One of the best decisions I've ever made… I've learned more in the last six months from you than in my 46 years on this planet." – JJ
"Your professionalism and experience leaves me in no doubt that my investments could not be bettered…" – RP
"I find your analysis, approach to investing and recommendations extremely helpful, refreshingly down to earth, realistic and sensible." – SJ
"[I] have learned a lot – the clarity is much appreciated for a novice… Keep up the good work." – DV
I don't need to remind you…
But given the last couple of years…
The return of rampant inflation, a cost of living catastrophe that could be worse than the financial crisis of 2008 …
And a conflict that has mutterings of World War III…
What better time to get real intelligence on the markets… and specific investment tips from Rob?
My mission: to put into your hands the tools you need to start building a better financial future for yourself and your family…
For you to be the hero of your own story, when it comes to your money.
I hope that's what you want too.
Stick with me and I'll show you how to get an advance screening of my exclusive online broadcast that shows you how you can be a part of Britain's Great Wealth Revival.
And just for tuning in, you'll receive a valuable briefing, showing you three investments that our master investor believes you should steer clear of right now.
Many thanks,

Nigel Farage
Founder, Fortune & Freedom
P.S. The future is a lot brighter than the mainstream media want you to believe.
Are you ready to be fast-tracked for your financial freedom?
Nick Hubble has prepared a message for you, a review of Britain since Brexit that I think is essential reading.
Because this is a key part of why I believe in Britain's Great Wealth Revival
But before you do I have a simple question…