My name is James Allen and I'm here to talk to you about not only the biggest investment opportunity out there today, it's perhaps the biggest opportunity ever… anytime, any place.
The opportunity is climate change or so-called "climate tech", the technologies going into tackling and hopefully reversing the damaging effects of climate change and to help us reach our over-arching decarbonization targets.
An unprecedented wave of innovation is coming to help solve the biggest, most challenging problems in deep decarbonisation. The demand for zero-carbon energy, products, foods and goods will accelerate market adoption of these new technologies and drive enormous commercial outcomes for the winners.
Engineers and scientists are now working around the clock on how to decarbonise every sector of the economy: cement, steel, and plastics; shipping, trucking, and aviation; agriculture, energy, and construction. It's clear that decarbonising the global economy is going to create the greatest investment opportunity of our lifetime.
What's more, there has never been a better time to invest. The world realises it has got work to do to reach our pressing climate targets. There has never been so much money flowing into solving climate change than right now. The sums being put to work – from governments, venture capital and private equity – at tackling the most pressing issue of our times are truly remarkable.
The size of the opportunity is mind-boggling and proportional to the reward: companies that successfully contribute toward significant climate change mitigation will build enormous businesses in the process. If we consider that so far 1.6 trillion metric tons of carbon dioxide have been released into the atmosphere, valuing each ton at a realistic $100, that's a potential $160 trillion market to reverse climate change.
"In the near future – and sooner than most anticipate – there will be a significant reallocation of capital."
– BlackRock CEO Larry Fink

"There will be, you know, Microsoft, Google, Amazon-type companies that come out of this space."
– Bill Gates

"The point of all this was, and remains, accelerating the advent of sustainable energy, so that we can imagine far into the future and life is still good. That's what 'sustainable' means. It's not some silly, hippy thing — it matters for everyone."
– Elon Musk

"A trend we can't afford to ignore."
– The Financial Times
It's the biggest migration of capital the world has ever seen.
And, like a reflex action, we have already started to see early Climate Tech companies start to soar:
Lithium America Corps shot up by 853% in just under 2 years…
Ballard Power Systems hit 251% in 9 months…
Past performance is not a reliable indicator of future results.
Exro Technologies erupted up to 870% in 3 years
How will this play out?
What will this transition look like?
How will it impact our every day lives?
And which stocks do I think could soar as it happens?
To help give you some answers to those questions, I have recorded a special video presentation to walk you through the entire opportunity at our feet.
Don't wait for a second…
Click here or on the video player below and find out about my Climate Tech Profit Blueprint – RIGHT NOW!
Originally this presentation was intended for a much smaller audience…
Part of an exclusive event we put on just a few weeks ago.
But the response has been so positive, I think we're really onto something.
So, I'm opening the doors to you:
I cannot wait for you to see this keynote presentation.
I'm sharing details on my exclusive Climate Tech investing blueprint. Including:
The name and ticker symbol of a stock that could ride this trend for a decade. This is a breakthrough company for the very top of your watchlist.
Key details on FOUR more Climate Tech investing opportunities. Including one pioneering company that could triple your stake inside the next 24 months.
A special new project to help you take MAXIMUM possible advantage of the biggest market opportunity in the world today! If you see the big potential here – I'd like to extend a very special invitation.

The earlier you get into The Climate Tech stocks that meet our strict investing criteria, the bigger the potential gain for you.
My experience investing in renewable energy tells me – having a speculative stake in an unstoppable trend can really pay off.
Over the past four years, we have seen a series of jackpot gains shoot out from the clean energy sector:
547% on Ilika in 11 months
130% on Good Energy Group in 22 months
393% on Workhorse Group in 9 months
Past performance is not a reliable indicator of future results.
I do need to be very clear here: the markets have been volatile over the past few months.
If the idea of volatility scares you, and you want to focus instead on capital preservation, this opportunity is not for you right now, maybe ever.
Always remember the golden rule of investing: keep your head and never risk more than you can afford to lose. 
There are no certainties in life, but having skin in the game guarantees at the very least one thing:
A chance at catching some potentially very big winners.
The fact is, I believe we're looking at first-in-history conditions for an enormous surge in companies driving climate technology forward.
And the chance to make a potential fortune.
Forecasts are not a reliable indicator of future results.
So, let's take full advantage!
Let me show you the two catalysts that could soon send this megatrend into overdrive…
And key details on my top investments to make now! It's all here: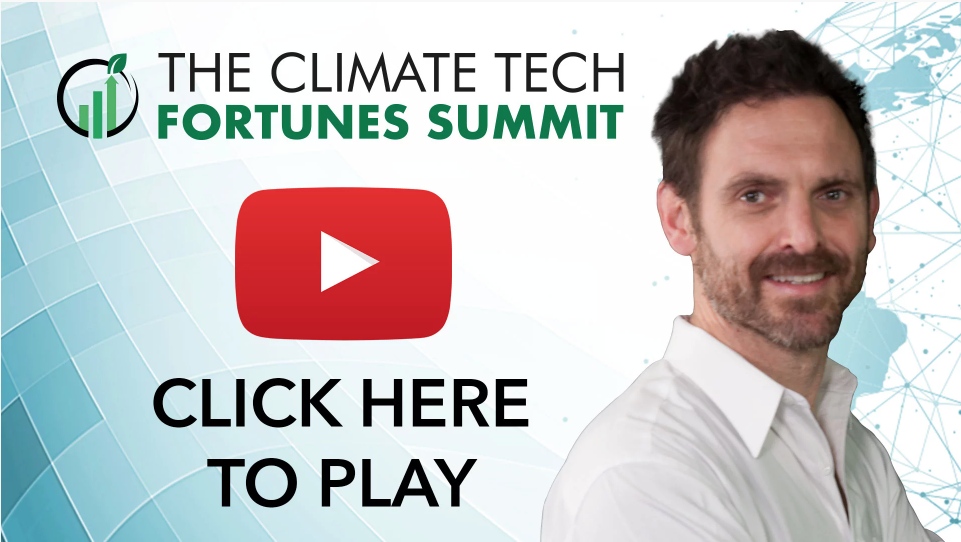 Watch it. Take in the enormous opportunity at your feet.
And let me show you how I think you can ride it to an enormous personal financial gain.
More again soon,
James Allen
The Climate Tech Fortunes Summit